My classmates and I have all resorted to using essay writing services at one point or another during our university careers, how, ver we've had mixed results. We wanted to provide a review of different websites, so future students don't fall victim to a scam. We decided to check out 1 Click Dissertation to see if they were legit, and a safe to place our trust in or not.
---
In Comparison
---
About 1 Click Dissertation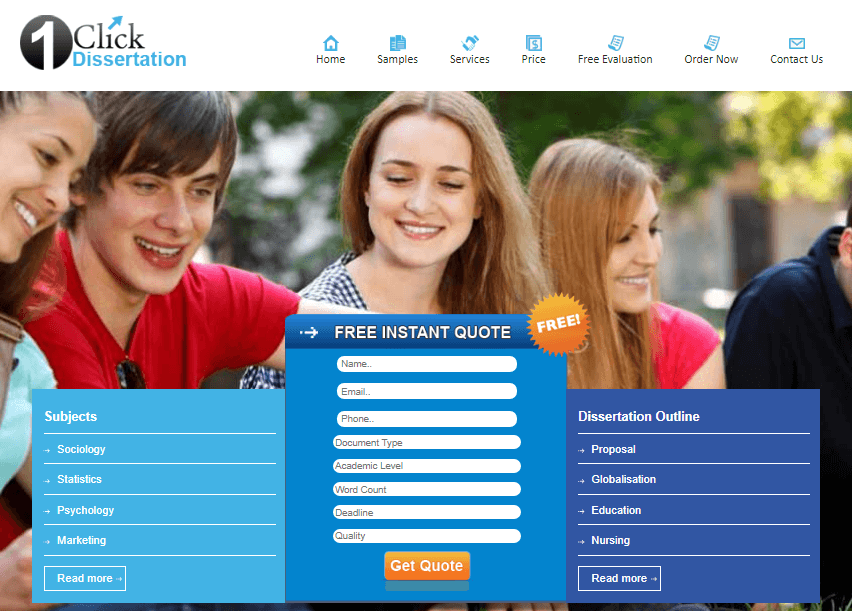 The first thing I noticed about this website was the absence of a phone number or email address, there was just a live chat box. This made me really concerned about how students would get any support or answers to any queries, or even a refund if necessary. This is particularly a problem as the live chat options are generally run by robots.
Ordering from 1ClickDissertation
When you make an order, you simultaneously create a login and register for an account. You then enter the basic info for your order in drop down boxes, including your deadline, word count, and the grade you want for your paper. There's a huge array of the topic to choose from, but rather worrying a max of ten references, which is really small for a university essay.
Prices
There is a box on the order form where you can enter a discount code if you have a coupon or find a promo, so you'll probably be able to get some money off. Otherwise, a 3000-word philosophy paper at a 2:1 standard would cost £186, a 1st class paper would be £234. This isn't the best deal I've ever seen, but it's not overly expensive. The shortest deadline is 4 days – which may be too long to wait for some last minute students though.
Writers
There is no information at all, at least that I can find, on the qualifications and backgrounds of the writers for this site. This is bad, as if they don't guarantee a certain standard, then you don't have any grounds to complain or ask for a refund.
Quality
Some samples were available, and while it was good to see an example of work, there was a problem as there was no indication of whether a person had paid for a 2:2, 2:1, or 1st class paper, so it was impossible to tell whether this was realistically good or not. I'd want to know what level the paper was, to assess if I could trust them to get me a high grade.
Summary
Overall, there are way too many gaps in the information provided here, and I don't feel like I'm guaranteed good service or a good paper. I'd recommend looking further for an essay writing service.
Rating: 2.2