Buying an essay is an expensive proposition, so seeing that EssayArsenal.co.uk offering essays from £9.95 per page is very tempting. Are they a legit service, or one of the scam sites online that you should avoid? Read this review and find out more.
---
In Comparison
---
About Essay Arsenal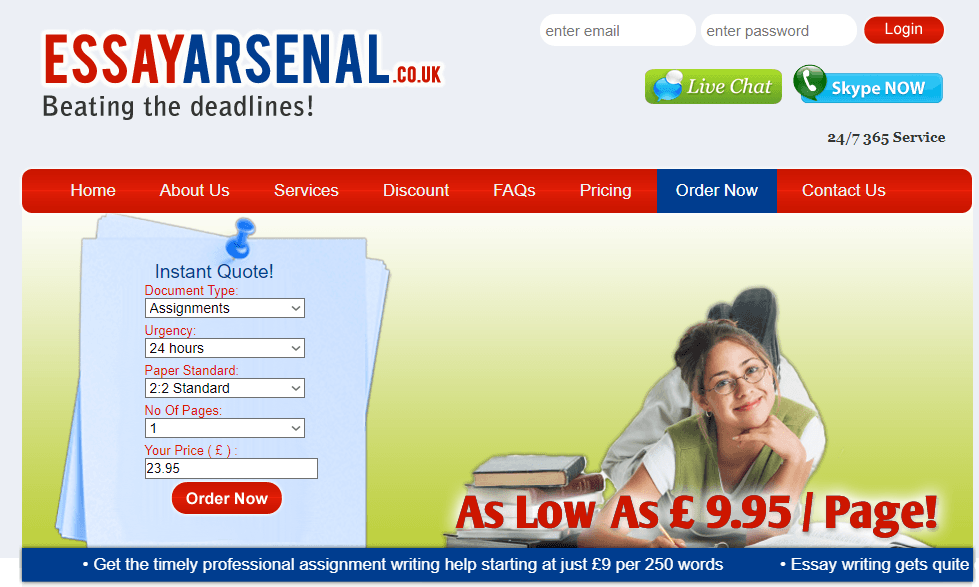 You can choose from several writing services, such as essays and dissertations. You can also get editing services too, should you need them. When you login, you can use the customer support team if you need a refund or just have questions about ordering with them.
Order process
Like most sites, this service has an order form on the home page. Just give a few details, such as how soon you need the essay and how many pages you need, and they'll get back to you with a writer. That writer will start work on your essay as soon as possible, keeping you in the loop. Once it's done, it'll be delivered to you and you'll have full ownership of the essay.
Prices
What you'll pay will depend on what you need from Essay Arsenal. For example, if you need a 3-page 2:2 standard essay in 3 days, that will cost £53.85 GPB. There's a discount deal in place that gives you bigger discounts the more pages you order from them, but there's no promo coupon as such that you can use.
Writers
This service say they pride themselves on delivering high quality, original content every time they write an essay for you. You want to know that you're safe with them, that you can trust them with your essay. They're very clear that they have been in the academic writing business for a long time, and so they know exactly how to put together a first-class essay.
Quality
There are a few testimonials on the site that describe how some customers found the service. They are positive about the service, but there's so few testimonials that it's hard to get a proper reading on them. Plus, the page link is tucked away at the very bottom of the home page.
Summary
Is it time to register for an account with Essay Arsenal? The pricing is tempting, but the fact is there's no real evidence of their quality. There are only a few testimonials and no samples, so you can't take a look at their writing for yourself. In the end, you'll want to leave this service.
Rating: 3.0