As you may be able to tell from the name, Law Essays Help provides essay writing services specific to law students and law school. As this is a niche subject, it can seem great to have some specific help, so we decided to review this service and assess whether they were legit and safe to trust, or potentially a scam.
---
In Comparison
---
About Law Essays Help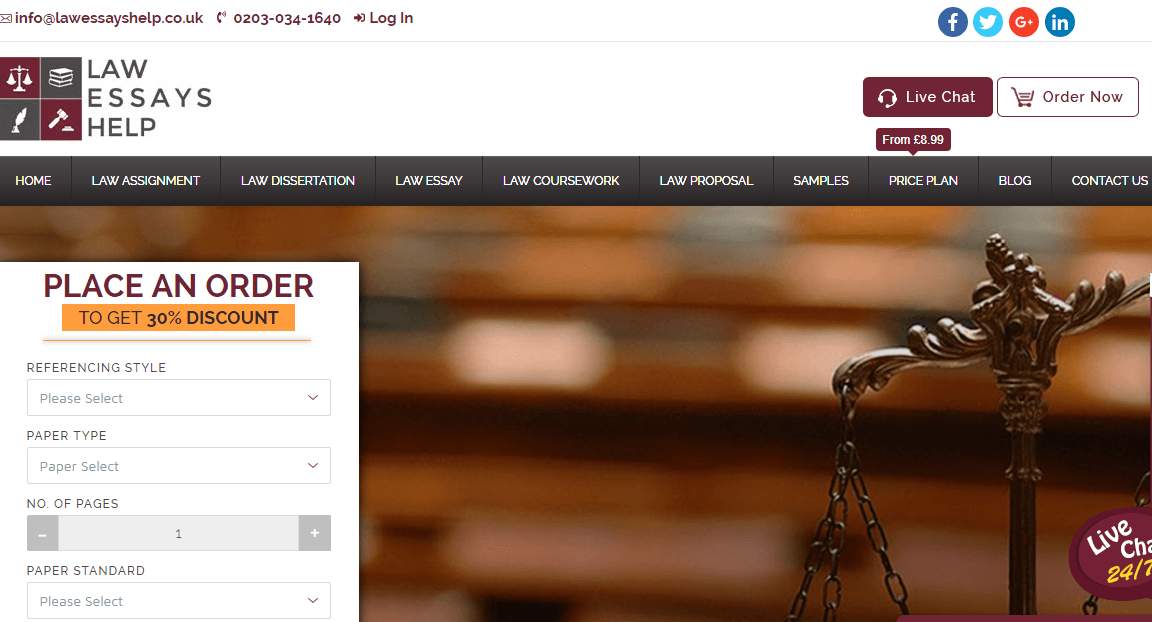 When you first log in to the website, you're met with an email address, phone number, and a live chat window. However, this window seems robotic as it immediately starts pushing for a discount, and there's a window for a promo coupon too. It seems like they're desperate for business, and kind of spammy. Plus, their links to social media pages don't exist – they have a Facebook symbol, but if you click on it you get 'page not found.' From this, I doubt there's much support, or help if you need a refund or have questions.
 Ordering a Paper
Ordering a paper from this website is similar to others, you register for an account as you order, and you provide your topic, how many words you need, your academic level, and what grade you want. You also pick a deadline and your referencing style, but you can't say how many references you'd need, which is important at some universities.
Writers
Seeing as this service is specific to law students, I assumed they'd promise to only hire people with advanced law degrees. However, this is not the case. It says they're graduates, but not that they're law graduates, and that they come from all over the world, so I'm not sure they're necessarily native English speakers.
Prices
If you want a 1st class 3000 word paper in a week, then it will cost you £233.88, however, there are multiple discounts available. To be honest, once you've applied all the discounts the prices are almost too low to guarantee quality, and it makes me think the writers aren't based in the UK.
Quality
LawEssaysHelp guarantees that you can get a 2:1 or 1st class grade, and there are some samples available to see an example of the kind of paper they produce. However, as they're so hard to contact, and different universities grade papers differently, I'm not sure how you'd be sure of the quality you're getting.
Summary
As Lawessayshelp.co.uk is specifically for law students, I would expect a lot more guarantees on the background of writers, as well as fewer discounts, as although this seems like a good deal, qualified legal writers aren't normally cheap.
Rating: 2.4