LawEssayWriters.co.uk offer you several benefits of choosing them, such as round the clock support and timely delivery. Are they the best, most legit law writing service you can use? This review examines that they can do for you, and whether you should choose them.
---
In Comparison
---
About Law Essay Writers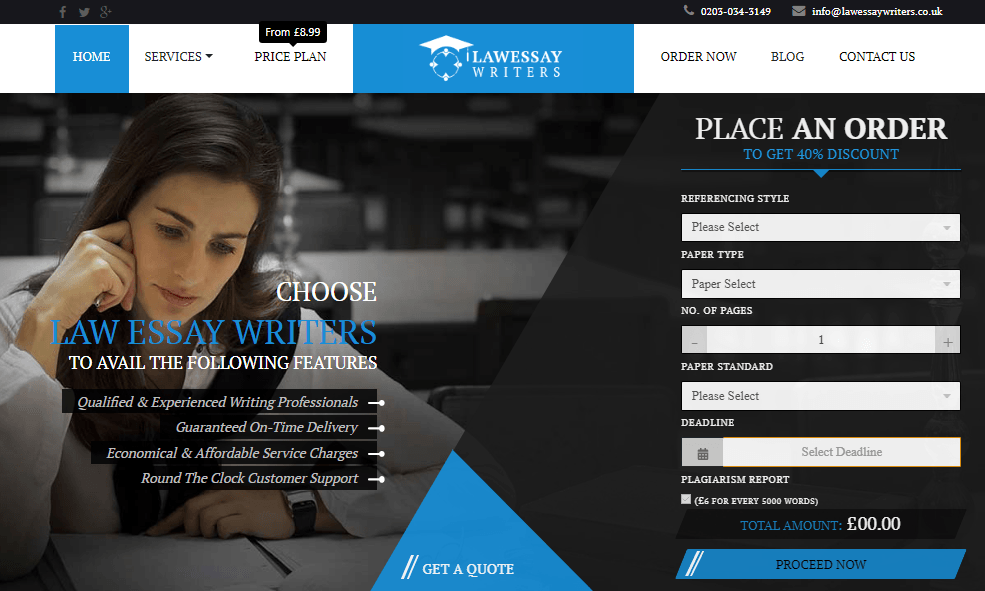 You can get several styles of academic writing here, from essays to power point slides and literature reviews, and more. The customer support team are on hand 24/7 via live chat if you log in, and they'll handle refund requests, queries about making an order, or requests to talk to your writer and more.
Order process
To place an order all you need to do is fill in the form on the homepage of LawEssayWriters. Just give them a few details, such as essay length and deadline, and they'll come back to you to give you a writer suited to your needs. With them, you'll start work on your essay. Once it's ready, it's handed to you and you're the sole owner of the piece, so you can use it as you wish.
Prices
What you depends on what you order. As an example, a 1-page essay due in 6 days will cost £13.99 here. You can also get a promo coupon to give you a 40% discount on your first order, making it a good deal for first time customers.
Writers
There's lots of scam writers around online, so you want to know you're safe with this service. On their home page, they talk about how their writers are highly experienced in law, so you know you're getting work from someone who knows the subject inside and out. Because of this, you should be able to trust them with your grades.
Quality
There are testimonials on the site, so you can see exactly what past customers think of the service. As you'd expect, many of them are positive, as customers were happy with what they got. However, it is worth noting that the reviews often don't go into a lot of detail about what made the papers so good.
Summary
Should you register for an account and trust Law Essay Writers with your essay? It's unclear, as there's no real talk about what makes their essays so good. As you can't see any samples you can't form your own opinion on them, so it may be best just to avoid them as a service.
Rating: 3.0