Students often need help when it comes to their university work. However, help is not always easy to find, unless you go for essay writing services. They can help you save yourself some time and they allow you to get good grades through the essays. Here's a review for one such service, Wewriteessay.co.uk.
---
In Comparison
---
About We Write Essay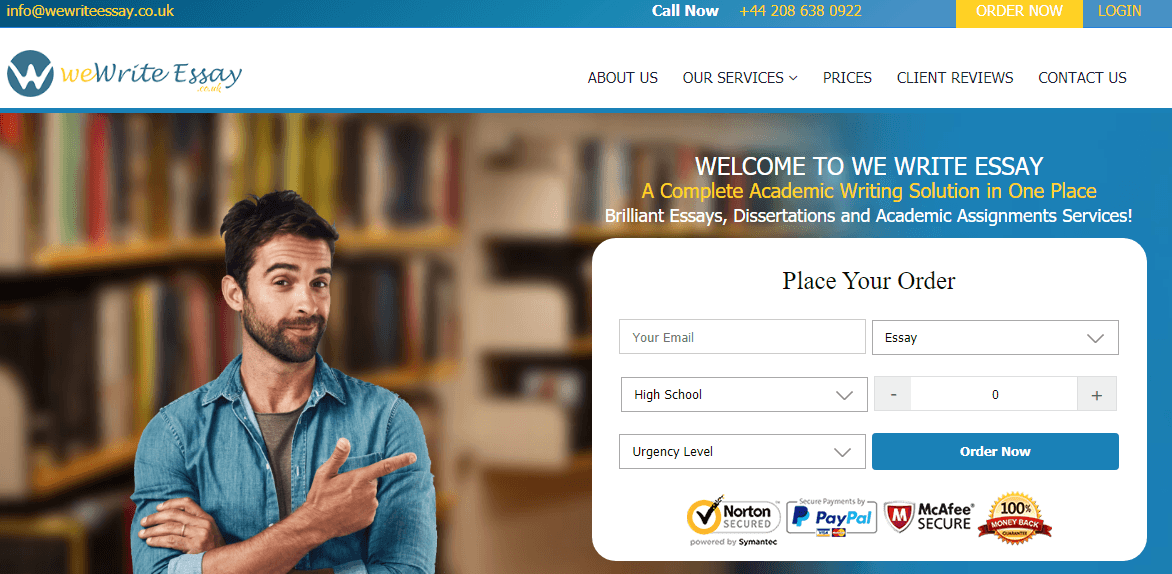 When you login to the We Write essay website, there are immediately some things that will catch your eye. First off, the huge banner which at first seems attractive, but is not so well-written when you pay attention. Then there are many ways to reach them, from the live chat option, to the phone numbers and other options. The website doesn't seem very modern.
Order process
The order process on this website is quite familiar. There is a large blue button in the corner which invites students to order. This button will lead students to the page where they should fill out the form with their needs and the order will be submitted. There are twenty different services with Wewriteessay, which is a bit on the low side, compared to other services.
Prices
The prices with Wewriteessay.co.uk are balancing on the average. You will need to get a quote for your specific kind of paper, since that's the most accurate pricing you can get. There is a pricing page as well. You might be able to find some discounts for first-time users on this website but they are not immediately obvious.
Writers
Unfortunately, there isn't a ton of information on the writers that create essays for this essay writing service. There isn't a dedicated page for them or a section which can give some more information on what the qualifications of these writers are. The only claims this service makes is that they are experts or professionals, but with nothing to support those claims.
Quality
There are no samples available on this website. They do not offer any proof of quality for their work except a few testimonials which are nothing but praise. However, if you look to other websites, you might find that the reviews are not so great.
Summary
We write essay is not a legit service that can make student's lives easier. Rather, it can only make it harder, as many reviews claim that what they do is a scam. There's not a lot of information on the website about the writers or the quality, so students should go for tried-and-tested services that can actually help them.
Rating: 3.0